Dropouts in America: Confronting the Graduation Rate Crisis Gary Orfield
Authors: Gary Orfield
Date Published:
June 01, 2004
Only half of our nation's minority students graduate from high school along with their peers.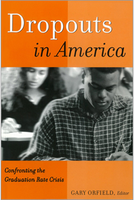 316 Pages
Pub. Date: 2004
ISBN: 1-891792-53-9
ISBN-13: 9781891792533
Available at Harvard Education Press.
For many groups-Latino, black, or Native American males-graduation rates are even lower. As states hasten to institute higher standards and high-stakes tests in the effort to raise student achievement, this situation is likely to worsen, particularly among minority students. Yet this educational and civil rights crisis remains largely hidden from public view.
"Dropouts in America can make an enormous difference in reducing the shamefully high level of school dropouts in communities across the country and make it far more likely that young students will graduate from high school and go on to college. Schools, communities, parents, and students alike can benefit from the promising models and concrete steps suggested here, and unlock the American dream for literally millions of the nation's youth."
— Senator Edward M. Kennedy, Senate Committee on Health, Education, Labor, and Pensions

"Gary Orfield and his colleagues have done us a great service by lifting the lid on one of the unacknowledged secrets of the recent drive for high-stakes tests and punitive sanctions in our public schools: an escalating dropout crisis that is seldom mentioned in the education circles of our nation's capital and one that is taking its highest toll on children of minorities. Dropouts in America is an absolutely essential book—timely, urgent, and disturbing. "

— Jonathan Kozol, Author of Ordinary Resurrections: Children in the Years of Hope and Savage Inequalities: Children in America's Schools
Document Actions